An adventure of bici e vini

12 days, 2 counties, 500 miles, 55,000 ft of elevation, 18 grape varieties, plus a beer or two.  Not everyone would call that a vacation yet I might suggest there is no better way to truly immerse yourself in the local culture and countryside.
Verona, Italy
The adventure began in Verona, Italy the land of Romeo and Juliet, or Valpolicella and Amarone.  Both of these wines are made of the three traditional grapes – Corvina, Molinara, and Rondinella.  While Valpolicella is widely produced and quite enjoyable as a summer red wine, it is the Amarone that sits as King of the region with its rich and complex character capable of aging for decades.  The grapes are first dried for several months to concentrate the sugars, and although the wine is fully fermented to produce a dry wine there is the perception of sweetness.  And forget the cannoli, eat the frozen fruit sherbets.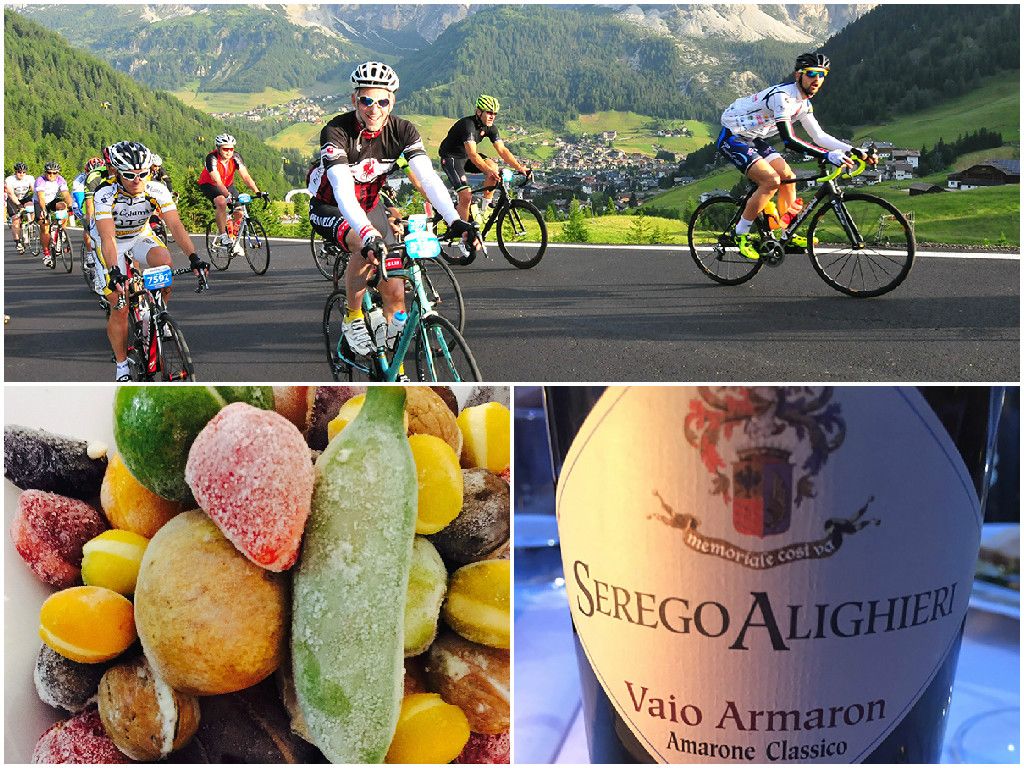 Our group of a dozen was made up of singles and couples – all strangers at the onset; all friends by the end.  The first few days we rode north along Lake Garda and into the Dolomiti di Brenta staying in the towns of Riva del Garda, Pinzolo, and Bolzano.  The days were grueling with climbs averaging 9% and frequently hitting 14% or more.  The heat was searing and on occasion I felt myself melting like a wax candle.
A crisp glass of Sud Tirol white wine has the astonishing ability to refresh the body and nourish the soul.  Also referred to as the Alto-Adige, the white wines are typically made from Pinot Grigio, Pinot Bianco, Gewurztraminer, or Chardonnay but Sauvignon Blanc, Sylvaner, Kerner, and Riesling are becoming popular.  Red wines of Schiava and Lagrein are also produced here but were certainly of less interest to me during this period.
MARATONA DLES DOLOMITES
Day seven – Maratona dles Dolomites.  The main event has arrived – I am number 5108.  Our group of 12 represents 10% of all Americans in this 10,000 person grand fondo.  The sun did not wake us this morning as we put bacon, eggs, and assorted pastries on our plates at 4:30 am.  At 6:42 am, I start pedaling for the next 7 hours and 38 minutes covering 67 miles at 6 mountain passes including Campolongo, Pordoi, Sella, Gardena, Campolongo (again) and Valporolo.  I merely (and humbly) only rode the Medio course.
Standing next to the Fausto Coppi memorial at Passo Pordoi reminded me of how much further I could go.  Striking up conversations during the climbs was mandatory.  The descents were epic for many and tragic for some. Eating strudel and dancing the polka at Passo Gardena were a physical and mental relief mid-way though the day.
The day ended with a bratwurst and a beer, Warsteiner of course.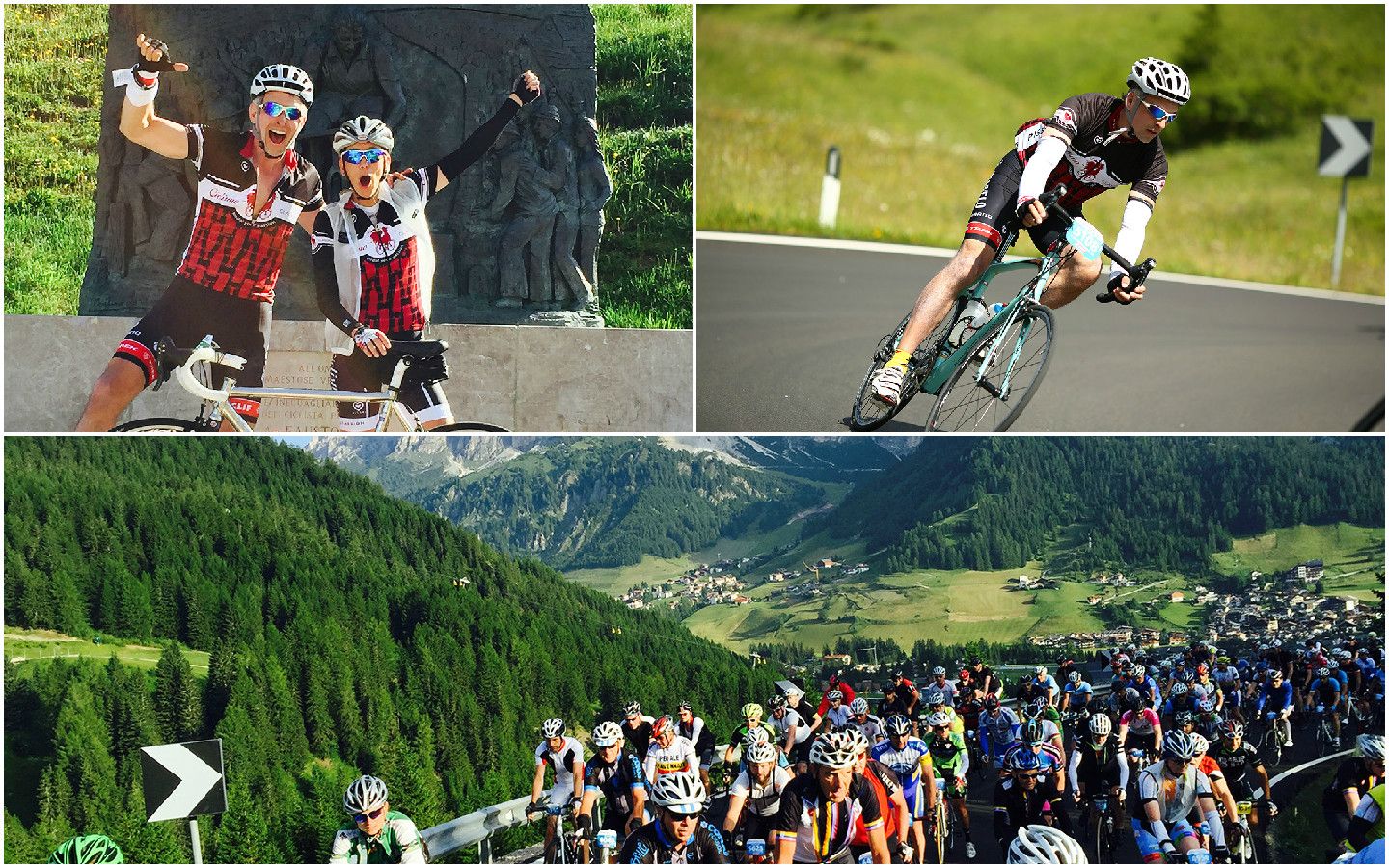 TRE CIME
Day eight was theoretically a rest day, yet we hiked the Tre Cime, an UNESCO national park.  Yes it was beautiful but damn I did not want to be on my feet.  A country lunch of potatoes, sausage, onions, and cheese served with a bicchiere of local merlot went a long way towards making the day enjoyable.

LIENZ TO ZELL
As the trip moved on our bikes found there way over the Austrian border and the beverage changed from wine to beer (with some exceptions), the food changed from pasta to game meat, the desserts became hardier.
Further and very thankfully the temperature dropped a good 10 degrees – perhaps it was the rain.  I can't say that I was disappointed to have missed one day due to bad weather – the day we were scheduled to climb the Grossglockner – 8,000 ft and 60 miles.  The shuttle ride from Lienz to Zell am See was therapeutic and we were welcomed to our new hotel with glass of crisp Gruner Veltliner.
This evening was one of the few "dinners on your own" nights.  A small group ended up at a traditional Austrian restaurant – Steinerwirt.  It was a night of meat indulgence and Austrian wine education.  I ordered Austrian riesling which was full bodied with high acid and citrus notes.  Next up we were introduced to Austrian pinot noir.  I must say I did not have high expectations but the "Somm" asked I indulge him.  The pre-production was showy as the waitress rinsed each glass with a bit of the wine.  The wine exceeded expectations and could have been confused with a Sonoma Coast bottling – deep color, rich with well integrated tannins showing red fruits, spice, and minerality.  So good in fact we ordered the same again and with the lamb chops it really shined.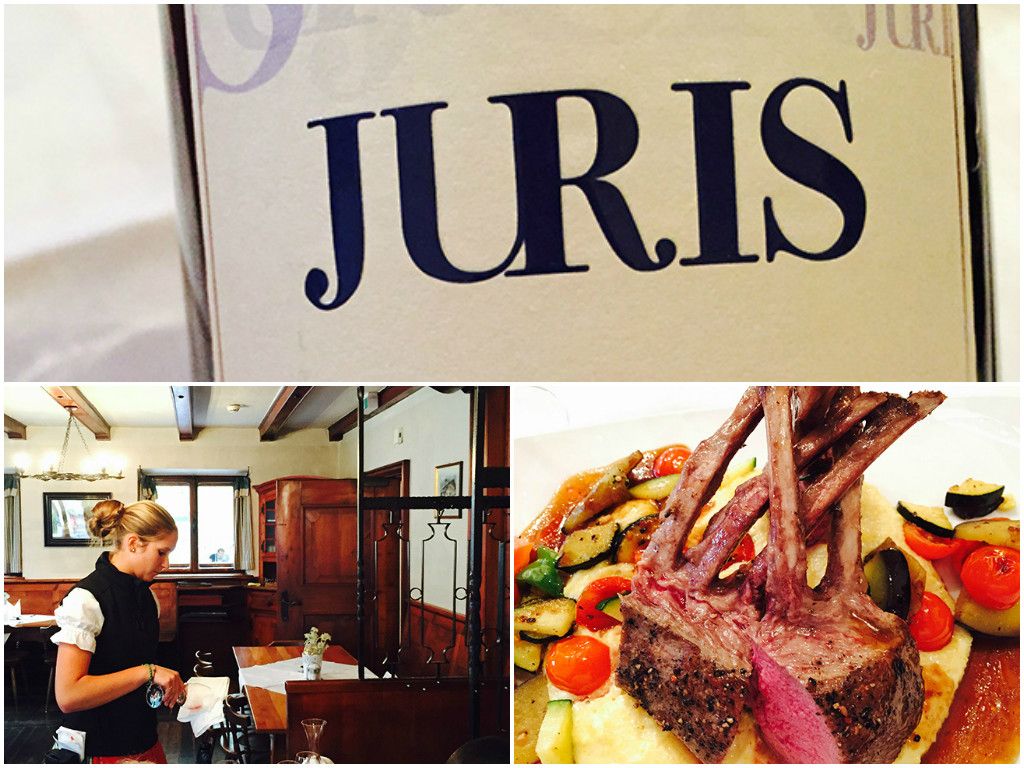 ZELL TO WERFEN
From Zell we rode to the little one road town of Werfen.  We dined at the fabulous Obauer restaurant owned by brothers Karl and Rudi.  And yes this place had a real master sommelier, Alex, who took me through the paces with Riesling, Zweigelt, Blaufrankisch, Pinot Noir and of course Ruster Ausbruch – a dessert wine somewhat reminiscent of a BA style german wine.  The next morning Carl introduced me to his cousin the Hutmacher (Hat maker) and the photo says it all.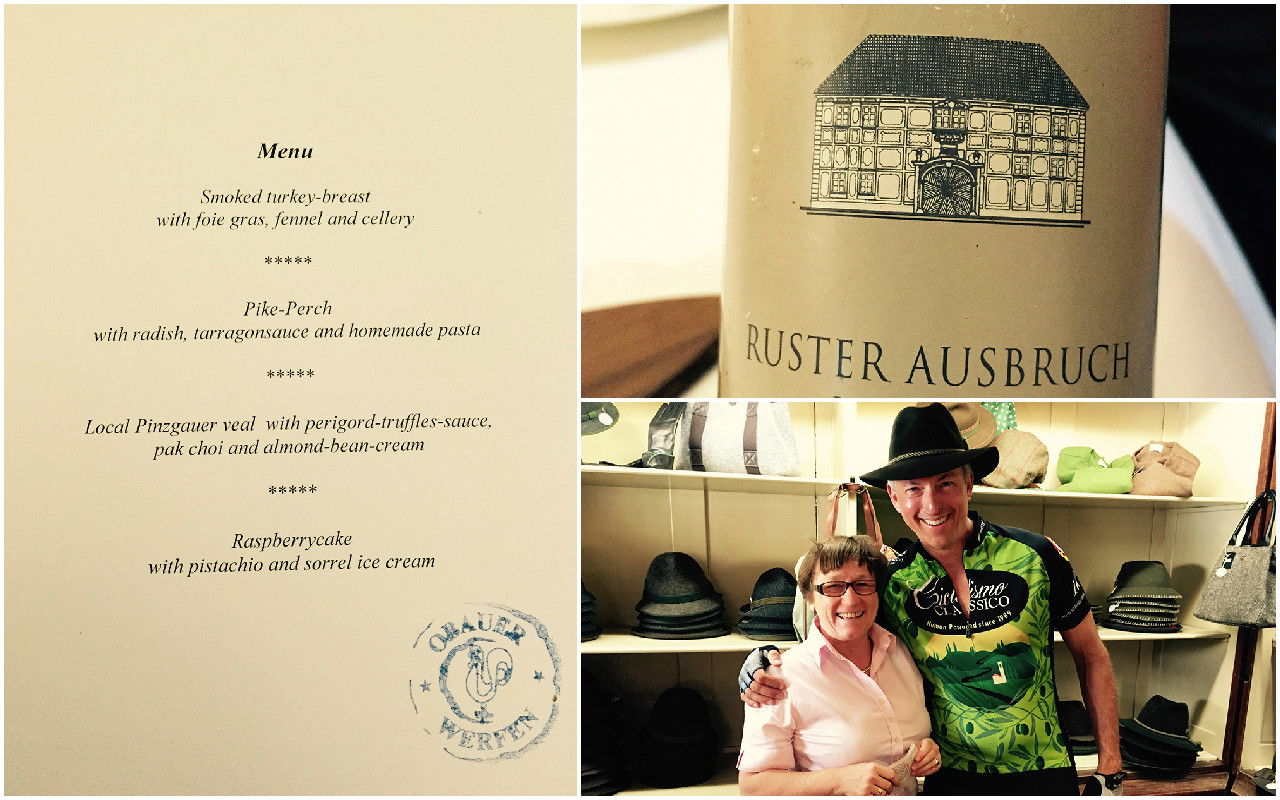 Our final ride into Salzburg provided us with a hidden treasure in a small town whose name I never knew – an antique bicycle (late 1800s to early 1900s) exhibit.  Tires made of rope, wood, and perhaps rubber. Candle lamps.  One driven by direct gear. One that held a gun and saber.  It made me think how many of these old gems were still sitting in barns across the country.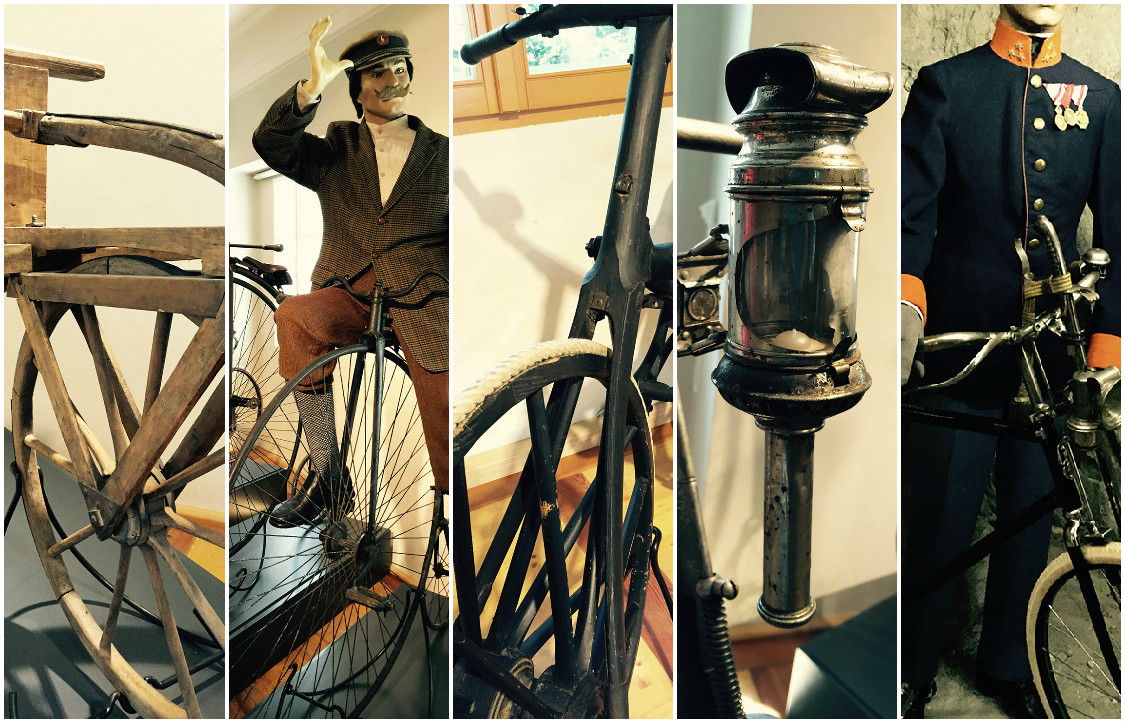 SALZBURG, AUSTRIA
The trip concluded in the amazing town of Salzburg, Austria.  I had the special opportunity to attend a traditional marionette show of the Magic Flute – along with about a hundred school children.  A glass of wine would have been helpful, but when in Salzburg enjoy a Sacher tort and a stein of beer.
A friend of mine once jokingly stated that the Italians can make good wine – even from grapes.  I might add that Austrians can also make good wine and might be one of the world's most under appreciated wine regions.
Salute and Prost!