Bordeaux, Dinner & Tasting
Our first fine wine dinner of the year brought us to the Menlo Grill where Chef Nathaniel Mitzner prepared a four-course menu that paired wonderfully with a selection of mature Bordeaux from a private cellar that we recently acquired, including many first- and second-growth bottles with perfect provenance.
After yet another record breaking day of high temperatures here in the Bay Area, it was a welcome respite to begin the evening with Pierre Peters Grand Cru Brut Reserve MV.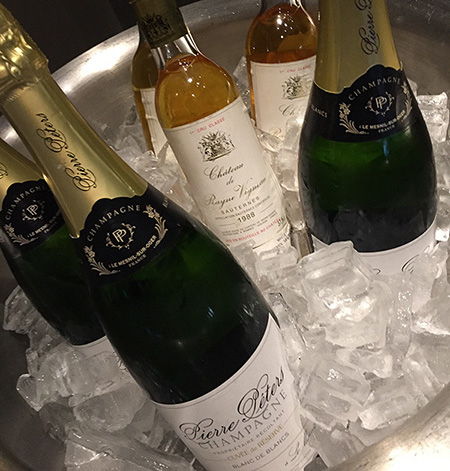 In attendance were a great group of old friends and new friends. Given the proximity to Valentines Day, it was not surprising that a number of couples attended. After introductions and a few glasses of bubbles, we were seated to a glass of Bernard Morey Chassagne Montrachet Les Embrazees 2006 and appetizers.
The dinner was envisioned to celebrate and share some great Bordeaux wines from the collection of a dearly departed friend – what started as an exploration of the 1988 vintage grew to a three-flight comparative tasting, including some older vintages too.
Flight one consisted of Canon 1985, 1986, and 1988. This St Emilion producer is located very near to Chateau Ausone on similar soils. The wine is produced from Merlot (75%) and Cabernet Franc (25%). Out of the gate, the 1985 enticed the nose and caressed the palate. The slightly leaner 1988 paired wonderfully with the fattiness of the foie gras. The 1986 showed us all the greatness of the vintage – tannin, acid, body all in proportion. Many thought it to be the wine of this flight and on a maturity plateau yet not in danger of decline any time soon.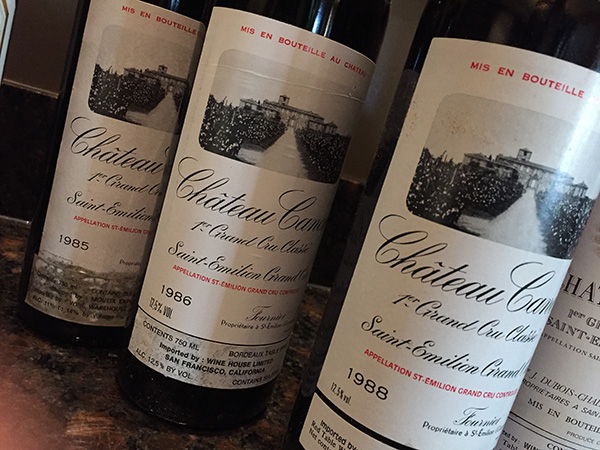 Our next flight moved to the left bank with Pichon Lalande 1984, 1986 and 1988. All three wines immediately demonstrated the power of this chateau. Relative to the first flight where Merlot was the dominant grape, here Cabernet Sauvignon (60%) was large and in charge. All were deeper in color, showed richer flavors, perhaps more cigar box and leather as well. It was the vintages though that spoke loudest. In both cases, the 1988s were delicious, well structured, and food friendly. And the 1986s just had more across the board.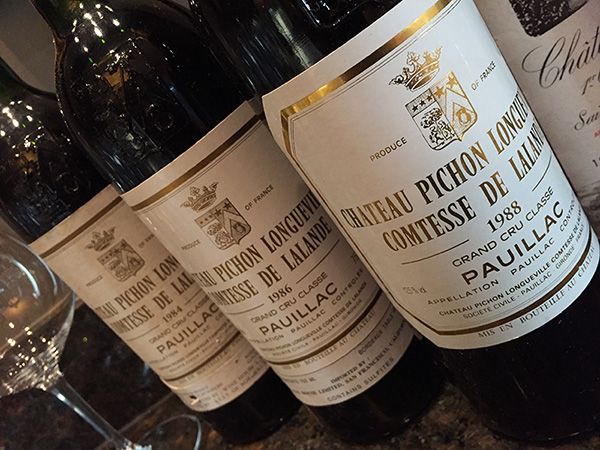 Flight three – anticipation was high as the Ausone 1988 (55% Cabernet Franc and 45% Merlot) and Haut Brion (41% Cabernet Sauvignon, 48% Merlot, 10% Cabernet Franc, 1% Petite Verdot) were poured and paired with lamb – beautiful pairing. There is something about drinking top shelf; an expectation that all too often fails to deliver. Not tonight. The elegance and spiced nuance of the Ausone were stunning as it danced across my tongue and tingled the sides of my face. Not to be outdone, Haut Brion belied its age and showed us why it is a First Growth. A massive wine that was clearly the crowd favorite was seemingly still cloaked in its baby fat. Beautiful balance, piercing aromas – I felt sorry for the lamb as it never stood a chance.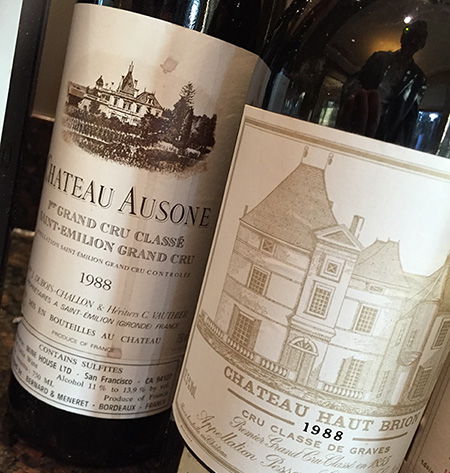 The cheese course was paired with our final wine – Rayne Vigneau 1988. It was a classic pairing and showed us all why great traditions last. It is my hope that these dinners become one of those traditions.