2016 ProWein & German Wine Institute Tour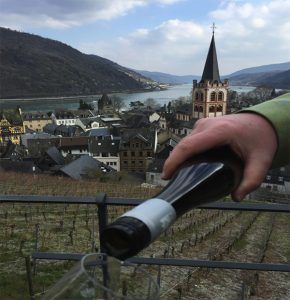 Firstly, I would like to thank ProWein and the Wine and Spirits Educational Trust (WSET) for sponsoring my trip to Germany, attending the ProWein, and traveling with the German Wine Institute through the Ahr, Mosel and Rheingau.
So with formalities out of the way, there is a notion that Americans do everything bigger but they clearly have never been to ProWein. This is the largest wine trade show in the world with 6,200 vendors (wineries, distributors), 52,000 attendees (not counting all the vendor people), and I would guess over 70,000 different wines.
When thinking over how to capture this trip into something of
 interest, a few themes came out – VDP, Terroir, Kabinett, and Silvaner. Along with a Poet and a Pirate, here are my impressions.
Before doing so however, we all should appreciate Germany for its other great contributions to our culinary appreciation – beer and pork at the renowned Schumacher.
VDP
The VDP (the Association of German Pradikat Wine Estates) defines the quality of wines according to terroir and the origin in connection to the quality. The VDP classification aims to preserve Germany's finest vineyard sites, to regain the significance of great dry wines and emphasize the relevance of traditional sweet wines with Pradikat. Within the hierarchy are three levels: Gutswein, Ortswein (or Erste Lage in some regions), and Grosse Lage (or Grosse Gewachs depending).
VDP Gutswein are good entry level wines coming from an estate's holdings within a region.
VDP Ortswein come from a village's best vineyards planted with grape varieties typical of that region. A dry Ortwein is labeled "Qualitatswein trocken". A wine with natural sweetness is labeled with one of the traditional Praidkats.
VDP Erste Lage designates first-class vineyards with distinctive characteristics planted with varieties traditional to the region. A wine with natural sweetness is labeled with one of the traditional Praidkats – Kabinett, Spatlese, Auslese, Beerenauslese, Eiswein, or Trockenbeerenauslese.
VDP Grosse Lage designates the very best vineyards with very expressive character and exceptional aging potential. The same labeling applies here as Erste Lage.
And this is just the beginning as within each strata are divisions by finished sugar level – dry, off-dry, and sweet. Confused? Good, we all are.
The VDP hosted us for a wonderful dinner at Pardo Bar. A dozen producers were delighted to educate and imbibe with us over the course of the evening. A few of the more memorable ones are:
Weingut Schloss Proschwitz Prinz Zur Lippe
Now that is a mouthful. Dr Georg Prinz zur Lippe is a delightful man with a commanding presence. Located in the Saxony (Sachsen) region, this is the oldest private winery in the region formed by the merger of four historic religious vineyard sites. It was the first Saxony winery to be granted membership to the VDP. The 90 ha of vineyards are primarily deep loess over granite. These deep soils are able to hold water quite well and carry vines through drought conditions. The continental climate and long hours of sunshine help develop phenolics and promote high acidity.
This being Sachsen, Riesling is not the dominate grape; instead Elbling, Goldriesling, Muller-Thurgau, Pinot Blanc, and Spatburgunder are the most widely planted varietals here. As my conversation with Dr Georg went into overtime, I did not get a proper tasting so there will be no tasting notes at this time. I will say that the Spats I tasted were exquisite.
In addition, I am now fully informed on the benefits of dry farming for my own project in Oregon – Dr Georg, as you read this I look forward to hosting you there.
Domdechant Werner
Sitting quietly in the corner table, appearing to hold court while taking fastidious notes, Dr Franz Michel carefully spent time getting to know each of us during the evening. Founded in 1780, this estate has 14 ha in some of the best sites in the uniquely warm microclimate of Hochheim, almost all of which are planted with Riesling. That warmth brings an earlier flowering and longer ripening time than elsewhere in Rheingau, which means the wines can get very rich. The soil is packed with minerals that give an even more powerful, extracted character to the wines. The vineyard site with south facing chalky soils with the ability to retain water, something Dr Franz views as critical to maintaining vine health. All of the named vineyards are classified as Erste Lage – Domdechaney, Kirchenstück, Hölle, and Stein.
The 2014 Domdechaney (some blue marl soil) is rich with medium plus acidity; tart lemon, green apple with a long finish.
The 2014 Kirchenstück (sandy, loess) is refreshing and elegant with high searing acidity and tart citrus and a medium length finish.
Forstmeister Geltz-Ziliken
Hanno and daughter Dorothee are committed to preserving the quality and the legacy of their Saarburg Rausch vineyard and it shows.
The 2015 Saarburg Alte Reben coming from the devon slate and basalt soils at 300 meter elevation reveals stone fruits, apricots, with medium plus acidity and a pleasant long finish. Here some of the vines are over 130 years old and average about 90 years.
The 2003 Rausch Spatlese had aromas of petrol, smoke, honey, and nuts. On the palate honey and stone fruits with a rich sweetness balanced by medium plus acidity.
The 2010 Rausch Auslese Gold was a stunner – rich stone fruits, citrus, smoked almond. An almost perfect balance of minerality, richness and acidity.
All about Terroir
Maximin Grunhaus
Seated on the left bank of the Ruwer, this estate belongs to Carl von Schubert and is divided into three separate yet contiguous vineyards: Abtsberg, Herrenberg, and Bruderberg. Each vineyard having its own distinct micro-climate, gradient, and soil type. As was told to me, the blue slate contains more clay and should hold more water during the year resulting in fuller, richer wines. The red, or iron based, slates should be less intense with a bit more elegance.
The 2014 Abtsberg (blue devion slate, 27 g RS, 6.9 TA, 10.5% Alc) revealed a dry beautifully integrated wine with citrus, yellow apple and complex minerality.
The 2014 Herrenberg (red slate, 58 g RS, 8.1 TA, 7.5% Alc) did show less intensity with lime, grapefruit, and cutting acidity – would be perfect with spicy Asian cuisine.
The Bruderberg was unfortunately not available to taste.
Schlossgut Diel
Located in the Nahe region, this winery produces a variety of single vineyard wines that emphasize the unique terroirs.
Schlossberg is a south facing hill of clay and slate. Hints of petrol on the nose with balanced high acid, grapefruit, green apple, citrus, and minerals on the palate. The water holding capacity of the clay lends to the pronounced intensity and fruitiness of this wine.
Burgberg is a steep site with iron rich quartzite soils. Slightly less rich on the palate with an elegance of more subdued citrus and green apples notes.
Goldloch is a gravelly over bedrock. Stunning integration of acid, sweetness, and fruit – apricot, lime, minerality, and salinity with a lingering finish.
Pittermannchen gets its name from a small silver coin used in the 16th century alluding to the high value of wines coming from this site. The soils are a combination of grey slate, gravel, and quartzite. The wines was both elegant and complex with great aging potential. A slight tingle on the tongue lead to stone fruits, green apples, minerality and a lively finish.
Paul Laquai
Dinner with Paul Laquai was a pure education in terroir. We learned about two primary types of local soils – Slate on Loess and Slate. Slate on Loess is formed on ice age loess mixed with very fine slate rubble. The slate protects the soil from erosion, loosens the soil and promotes permeability for air and water. Slate weathers producing a fertile earth with mineral nutrients. The friable loess enables roots to penetrate deeply in search of water and nutrients. Loess also has a fairly high water holding capability and contains many minerals such as potassium, magnesium, sodium, and iron.
Slate, on the other hand, contains more clay giving it the classic blue-grey coloring. Many of the same elements are seen here as in Slate/Loess soils – main differences include a lower water holding capacity and less rootability. In addition, roots in pure slate tend to be in bedrock sooner which perhaps account for the distinctive minerality in these wines.
Paul has gone so far as to name the soil types on his labels – we are still unsure at this time if he is complying with regulation – oh well.
The 2015 Lorcher Kappellenberg (Loss – Loess) was an elegant wine with high acidity and impeccably integrated revealing lime, green apple, and minerality (12% alc, 7.5 g RS, 8 g TA).
The 2015 Lorcher Schlossberg (Schiefer – Slate) was fuller with notes of stone fruits, grapefruit, yellow apple, and ginger (12% alc, 8.2 g RS, 8.4 g TA).
The 2015 Lorcher Steillage (Quartzite) Feinherb is an off-dry wine with yellow fruit accents but less complexity (12% alc, 16 g RS, 8.4 g TA).
We were also treated to the 1989 Lorcher Pfaffenwies Spatlese of which I had seconds and perhaps thirds. Medium plus acid balanced with rich honey, apricots, candied tangerines, hazelnuts, and lemon curd.
And although global climate change is not part of this discussion, the fact that Cabernet is now in his vineyards says something to that effect. It is a great example of cool climate Cabernet with cassis, slight green herbal edge, plum, earth, medium plus acidity and body. A sign of things to come???
Back to the future with Kabinett
One of the regions earliest producers is now addressing the changing consumer demand for various sweetness levels in its Kabinett Riesling wines.

Schloss Vollrads
Dr. Ronald Hepp provided a unique historical perspective on Kabinett style Riesling. Schloss Vollrads is one of the oldest wine estates in the world with roman tower foundations from 150 AD and vineyard plantings in 850 AD. It is believed that "Cabinett" style wines started here in 1716 by Johann Erwein of Greiffenclau. These wines were of a higher quality and kept in a separate Cabinet Cellar for maturation. In the years following, the Cabinett designation was used as a quality designation similar to Winemakers Reserve or Gold Capsule. Gradually Kabinett has evolved to changing consumer demands and has become synonymous for elegant, sophisticated wine with moderate alcohol.
The tasting profile of Kabinett wines was delineated in 1971 by German wine law as a wine of light style and low alcohol. In its classification, the VDP lists Kabinett as a dry Gutswein or respectively as a Cru level wine with residual sweetness called Erste Lage (premier cru) or Grosse Lage (grand cru).
After cleansing our palate with a 2015 dry Kabinett, Dr. Hepp took us right to the 1969 counterpart. On one hand the 2015 was a pale yellow with green highlights showing bright citrus and minerality, the 1969 was amber in color with honey, nuts, orange pith, and notes of salinity – think aged Manzanillo sherry.
The 1971 was slightly lighter in color but such richness balanced impeccably by the acidity – a stunner. Without running through all the following vintages, we saw the emergence of the semi-dry (16 g RS) and sweet (53 g RS) Kabinetts in the 1990s in response to market demand, especially food pairing with Asian cuisine.
Today, Schloss Vollrads believes Kabinett style wines stand as the most food friendly wine. They show an abundance of flavor profiles, can age well, and are lower in alcohol. They are clearly unique to Germany and impossible to truly copy.
A Change of Pace – Silvaner
Much like a lead actor, Germany's Riesling need an understudy and Silvaner is playing that role. Some of the area's most revered wine families are applying the same dedication and care to its production and the results are incredible.

Furst Lowenstein
Family owned since 1611, Furst Lowenstein's 12 hectares are located on latitude 50th on the Main river in Franconia with slopes approaching 80% and soils composed of sandstone, limestone, and flint. They called it the Kallmuth, a place of uniquely higher temperatures; they claim even the Ice Age could not cool it down. Here it is Silvaner, not Riesling, that reigns supreme.
Winemaker Bastian Hamdorf spoke to wines that not only show heritage, location, and vintage, but also tradition, humility, and thanksgiving (not in the American tradition). He also notes that wines need time to evolve and mature.
Topping the charts are their Cornilla and Asphodill bottlings named after rare plants found locally. The former has a smokey aroma with fresh yellow fruits, citrus, and lingering minerality. The later is bit richer on the palate showing a subtle sweetness balanced by higher acidity.
The Homberg Kallmuth R Erste Lage is a spatlese style Riesling from higher up the slopes at 300 meter elevation. Here we have a clean, crisp wine with citrus, green apple, a herbal edge with higher acid, minerality and a pleasant lingering finish.
The Hallgarten Schonhell Sophie Grosse Lage was richer, more complex and layered wtih a slight enjoyable petrol (marmalade as it is referred to in Germany) nose. Beautifully integrated and seamless on the palate.
Glaser – Himmelstoss
Julia Glaser, the daughter, was a blast – young and energetic; she is the future. Specializing in Silvaner, we experienced how soil impacts flavor through this grape.
The 2014 Nordheim Trocken comes from sand over limestone. Tart citrus, refreshing, a slight nuttiness.
The 2014 Sommeracher Kitzenkopf grown on marl over limestone expressed a richer wine with yellow fruits and quince.
Lastly the 2014 Dettlebacher Berg-Rondell from pure limestone revealed green apple with beautiful minerality and salinity.
A Poet and a Pirate

Heymann-Lowenstein
The Sound of Slate
An Ancient sea turned to Stone
Shaped into Skyward sprialling Terraces
Elemantel vines on Barren rock
Dedication and Passion
Curiousness, Discovery, Fascination
A poet, a philosopher, a vintner. Reinhard Lowenstein is above all else a character. You unlock this door with the key of imagination. Beyond it is another dimension – a dimension of sound, a dimension of sight, a dimension of mind. You're moving into a land of both shadow and substance, of things and ideas. You've just crossed over into the Vom Klang der Schiefer.
Reinhard describes wine making as communication of the soil (and soul) where phenolics, acidity, sweetness, unami, and alcohol are in harmony. On the issue of the VDP, he feels they have learned from other countries issues:
1) (Bordeaux) base the classification on soil, not producer
2) (Burgundy) taste the wines before classifying
3) (Alsace) don't make 30% of your vineyards Grand Cru
The VDP system helps to improve wines to better reflect terroir. "Don't speak to me about Riesling, the story is the producer and vineyard, the brand. Riesling is merely a tool as are the barrels to make great wines".
On the subject of corks – "cork influences all wine, especially with age". He did though warn on the reductive hazards of bottling too early with screwcaps.
Funny moment on the day – after tasting a few wines, we questioned one of them as it seemed inconsistent. When asked to see the bottle, "it has disappeared".
How to make a good sweet wine – "means making one that is not sweet" – meaning balanced with acidity and minerality.
So the wines:
2014 Schieferterrassen – minerals, apple, lime, apricot; med plus acid and intensity; tart lemon, ginger, tingling finish
2014 Stolzenberg – high acid, med plus intensity and body, green apple, mineral, ginger, rounder and richer compared to previous bottle
2014 Rottgen GG – from a mix of blue and yellow/brown slate, high acid, med plus intensity and body, floral, yellow fruits, lime, grapefruit, richer still
2014 Uhlen Blaufusser Lay GG – blue slate, med plus acidity, more floral, yeasty, lime, high minerality, skin tannin
2014 Uhlen Laubach GG – marine sedimentary, high acidity, rich mouthfeel, slight petrol, minerality, lime, yeasty finish
2013 Uhlen Laubach GG – wine that disappeared
2010 Uhlen Roth Lay Auslese – beautiful integration, honey, nuts, marmalade (or petrol), golden raisin, peach, long complex finish
JB Becker
A few hours with Hans-Joseph Becker and you will know what Old School means. He has little regard for the current guard and adheres to the diligence and care his grandfather, Jean Baptiste, started in 1893. Tasting through these wines (in our case back to 1989) is like sampling time itself. There may be other wines like these in Germany, but few and far between I suspect. And yes, a few bottles found there way into my suitcase.
Hans-Joseph ferments with wild yeasts and high pressure fermentation which enhances color and fruit. He ages for 2+ years on lees in large old barrels. Minimal SO2 (none for 12 months) and glass closures seal the deal. The wines just kill it and seem ageless. It is clear he is not making wines to be consumed on release and shame on you for drinking them too young.
1989 Martinsthaler Rodchen Auslese – dry, high acid, rich, stone fruits, tangerine, honey, nuts, touch of salinity; perfectly balanced with a stunningly long finish
1990 Wallufer Berg Bildstock Spatlese – dry, high acid, orange marmalade, apple, honey, nuts, yeast on finish
1992 Wallufer Berg Bildstock Auslese – dry, rich, high acid, honey, beeswax, nutty, orange marmalade, long finish
1994 Wallufer Walkenberg Kabinett – dry, high acid (see a theme here), tart citrus, beeswax, honey, almonds, long finish
We had another dozen or so younger vintages all following the style of high acid, complex stone and yellow fruits, and textural mouthfeel. You can be assured of a great bottle with any of his wines.